Post by Blyka on Nov 1, 2012 14:11:34 GMT -5
INTRODUCTION
---
Time for TLT's 5th community Event! As you can see, this time we want you all to design new and memorable reaverbots to act as the bosses for some of our sub-gates! Capcom's reaverbot event had a great turn out with loads of interesting entries. We hope to see people sending that same enthusiasm our way to help give the Quint Islands a truly unforgettable set of reaverbosses! Incidentally, if you entered Capcom's event and your design fits with our criteria, don't hesitate to reuse it here.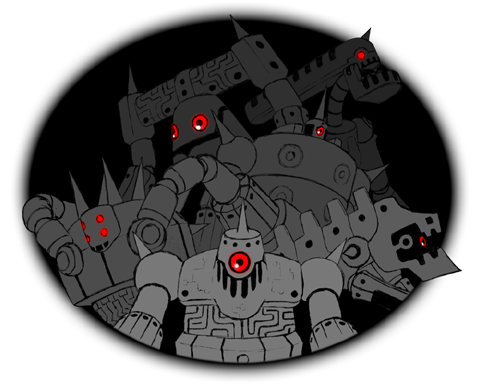 GUIDELINES
---
* Your design should look intimidating and keep in style with existing Legends reaverbots. These pages can be used for design reference and inspiration:
MML1
,
MML2
,
MOTB
* Size should range somewhere between a
Hanmuru Doll
and a
Wojigairon
.
* We highly encourage "neutral" designs, reaverbots we can place in any sub-gate we feel suitable. As such, we recommend avoiding concepts that limit your entry's usability, such as an "icicle reaverbot for Buscan Island" etc.
* In additon to visual or written descriptions of your design, you may optionally include ideas for your reaverbot's attacks, battle progression, and so on. If so, please keep the word count under 200.
* Keep in mind for both design and battle ideas that the reaverbot
must be able to be defeated by close range combat (Tuttle's cane)
. Tuttle will of course have special weapons, but they are not a requirement to proceed in the game.
* You may work solo or with a partner on your design(s) and may submit or participate in up to three designs.
This Event will be open to submissions from November 1st through December 10th, 2012.
All entries should be posted here in this thread. We want them all in one place so entries sent to us by email, PM, or in comments directly on the TLT site will not be considered.
Guest posting is enabled for the duration of this Event
.
Note: We are also now accepting Japanese language entries through a submission form on the main site.
WINNERS
---
* We'll be looking for
two (2)
winning entries from this Event.
* The winners will get their names in the credits and the satisfaction of seeing their design concepts come to life in the game. As for actual "prizes," see
here
.
* Designs will be judged by the project leaders, fAB & Blyka, based on a number of criteria including but not limited to: overall visual appeal, consistency with existing reaverbot styles, and adherence to guidelines.
* Winning entries may be subject to revisions before appearing in-game.
Give it your all and best of luck, everyone!
---
イベント#05 ボス リバード デザイン
【このイベントについて】
いよいよ第5次のイベントです!
今回のイベントは、サブゲートのボスユニットの新しい敵リバードのデザインイベントです。
カプコンのイベントもたくさんありましたね~
だから、このイベントも同じようなやる気で、新型リバードデザインを集めてみたいと思います!
その上、前にあったカプコンのイベントに提出したエントリーでも大丈夫です。
【イベント内容・条件】
* オリジナルデザインは今までのリバードのスタイルに合わせて、強力なデザインになります。分かりやすくするため、今までのゲーム(「
DASH1
」、
「DASH2
」、「
トロンにコブン
」など)のリバードをリファレンスとして使用してください。
* オリジナルデザインのリバードの大きさは「
ハンムルドール
」や「
ウォージーガイロン
」ぐらいにして下さい。
* このイベントのため、ステージ環境に無関係なデザイン(ニュートラル)は適切です。例:「ブスカン島」は氷イメージとしたリバードはこのステージにしか使えませんので、選びにくいこととなります。
* デザイン画像以来、提出するリバードデザインに対する簡単な説明やアイデアも認めます(200字ぐらい)。例えば、リバードの動く方、攻撃、特徴なども説明してください。
* リバードデザインに対して、格闘戦で倒せる必要があります(例:テイジの杖で)。主人公テイジは特集武器を持っていますが、ゲームを進む為に必要ではありません。
* このイベントは1人でも、2人チームでも認めます。1チームで提出できるデザインの最大限は3つです。
イベント期限:今年の11月1日~12月10日
【選ばれたエントリーについて】
* このイベントは、提出したエントリーの中で2エントリーを選ぶこととなります。
* 選ばれたエントリーの作者たちはゲームのスタッフロールに出る上で、プライズももらえます(基本プライズの説明はこちら)。
* 全てのエントリーは、プロジェクトリーダーの「fAB」と「Blyka」を評価します(評価される点の例:デザインイメージの感情、前のリバードのデザインの互換性、上にあるデザイン内容・条件に合わせるかどうかなど)
* 選ばれたデザインは、ゲームに出る前に完成度を高める為に改造する場合があります。
それでは、頑張りましょう!