Post by fAB on Feb 2, 2013 15:30:44 GMT -5
INTRODUCTION
---
Time for TLT's sixth community Event! This is another "Mini" Event, which means of course that the stakes aren't as high and there are more winners! The focus of this Event is the Malt Island Museum, which is currently empty. We want your ideas on what sort of exhibits might be found there. Let's make this a really cool place to visit!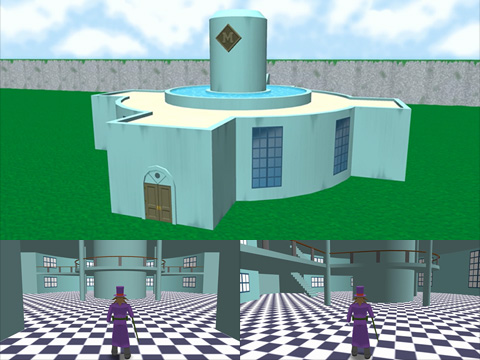 The Kattelox museum had a wide variety of items on display, from paintings by the townspeople to a rooster statue... What sort of things should the Malt Island Museum have for show? It will be interesting to see what you all can come up with! These are the various types of spaces we're looking to fill:
Major Exhibits: Large, prominently displayed pieces, something along the lines of a dinosaur skeleton or a big statue.
Standard Exhibits: Moderately sized pieces such as a large vase or an antique machine of some kind.
Display Case Items: Small and/or delicate pieces showcased under glass, such as jewelry or a sword.
Paintings: Pictures of varying sizes and styles to adorn the walls of the museum.
Tapestries: Extra large and intricate pictures that will hang in prominent places.
&
Collectible Artifact: ? ? ?
Tuttle will of course be able to collect and donate specific artifacts he finds throughout his travels. We have already decided what these items will be (some familiar, some new), except we've left one slot open. So in addition to coming up with regular museum decorations, you also get a chance to design an artifact that Tuttle will find in the ruins. It isn't worth anything special as far as the Event is concerned, though would give minor bragging rights.
GUIDELINES
---
* Draw or describe a museum piece that feels appropriate for the Legends world.
* Give a description of what the object is, it's background--what makes it worthy of being in the museum?
* Keep in mind that there is limited space for the more prominent exhibits--smaller items may be easier to win at.
* You may submit up to ten entries, regardless of type.
This Event will be open to submissions from February 2nd through February 25th, 2013.
All entries should be posted here in this thread. We want them all in one place so entries sent to us by email, PM, or in comments directly on the TLT site will not be considered.
Guest posting is enabled for the duration of this Event.WINNERS
---
* We have no specific number of winners in mind for this Event. It's totally subjective this time, according to how many entries we like and how much museum space we have to fit them in.
* The winners will get their names in the credits and their exhibits will appear in the game. As for actual "prizes," see
here
.
* Winning entries may be subject to revision before appearing in-game.
* Designs will be judged by the project leaders, fAB & Blyka, based on a number of criteria.
Give it your all and have fun!