Post by fAB on Aug 1, 2012 14:26:21 GMT -5
INTRODUCTION
---
TLT's third community participation Event focuses on the Sturm Force air pirates who will be Tuttle's rivals throughout his adventure on the Quint Islands. If you aren't already familiar with this gang, you can read some of their
backstory
and get a more visual introduction in this
video
.
This time around it's all about designing a "Sturmbot," pretty much the team's equivalent to a Servbot or Birdbot, as you'd probably already guessed. This is perhaps the most important TLT Event we'll be holding, as the winning design will be a major part of the game, to be prominently featured from the opening cut scene to the ending credits.
So just how should a Sturmbot be designed? Well, we have a couple of starting points outlined in the image below. Despite Sturm Force's fierce reputation, it'd be kind of nice if there was an element of cuteness to these little guys--not so much as to be totally out of place within their team, but enough that they'll provide a little contrast to the rest of the crew and help win the hearts of the players.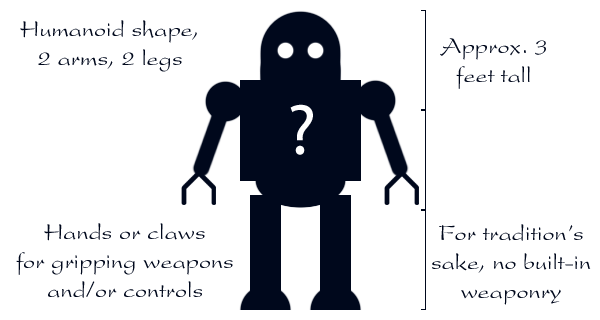 GUIDELINES
---
* Design an appealing "Sturmbot" character that suits the Force while fitting in the Legends world.
* You may work solo or with up to two partners on a design.
* You may submit or participate in up to three designs.
* Don't get too carried away with design details. Servbots and Birdbots both have nice, simple designs.
* If you have a unique name for your design you may include it, but keep it simple (one word plus "bot" attached to it). We may or may not stick with the name chosen, and entries without unique names are perfectly fine.
* Naturally the easiest way to get your design ideas across is with images. If you don't have images, make sure to describe your idea well.
* We welcome entries from around the world, but if going for a written description, please use English so that we can properly consider your idea.
This Event will be open to submissions from August 1st through September 5th, 2012.
All entries should be posted here in this thread. We want them all in one place so entries sent to us by email, PM, or in comments directly on the TLT site will not be considered.
Guest posting is enabled for the duration of this Event
.
WINNERS
---
* We'll be looking for just
one (1)
winning entry from this Event. One design will take all the glory.
* The winner (or winners, should the winning design happen to be a team effort) will get their name in the credits and the satisfaction of seeing their design concept come to life in the game. As for actual "prizes," see
here
.
* Winning entry may be subject to design revisions before appearing in-game.
* Designs will be judged by the project leaders, fAB & Blyka, based on a number of criteria including but not limited to: overall visual appeal, relevance to the Legends world and style, and adherence to guidelines.
Give it your all and best of luck, everyone!