Post by Dashe on Feb 9, 2014 15:25:33 GMT -5
If you ever plan to seriously play this game when it gets released in English for real, there will be massive spoilers throughout this entire thread. You have been warned.
Okay, here's the deal. Kyle's been streaming this weird Japanese game called Danganronpa during iScribble, but I've been copying and pasting that title this whole time because if I ever memorize how that's spelled, I'd be too tempted to go look up spoilers and cheat when it comes to betting on the outcomes. I have been calling it Dragon Romper, because those are the English words that sound closest to the way the Japanese is written out, and will probably be referring to the game as Dragon Romper for the duration of this thread.
What you're basically dealing with here is a psycho teddy bear running a prestigious school that only accepts the best of the best, in the most literal sense, and not just the superlatives you'd expect, either. Sure, you've got the best athlete, the best bookworm, the best school prefect, but you also end up with stuff like the best otaku and the best biker gang member and the best shaman.
Kyle's character, the Player Character (who incidentally looks quite a bit like a modern day Mega Man Volnutt), was randomly selected from a pool of average students and given the title "Super Duper Luckster," but last night we all discovered that it's more like Super Duper UN-luckster, because the whole school has been boarded up and cut off from the outside world so it can function as a Battle Royale arena. We're talking serious Hunger Games stuff. You can only escape by graduating. On top of everything, everyone receives a DVD showing the people they cared about the most in extreme distress of some sort, and a message that says "Find out what happened to them when you graduate!" You can only graduate by murdering another student and getting away with it.
Getting away with it is a lot harder than it sounds, though, because after every murder the whole group goes to trial, with the nutty headmaster teddy bear, and they're forced to determine who pulled off the murder through Phoenix Wright style investigations. If they guess right, the murderer is punished by a gruesome death. If they guess wrong, everyone else is punished by a gruesome death, and the murderer graduates and wins the game. Either way, according to the rules only one person theoretically gets out alive.
In the end, it turns out the group of students had been classmates for two years already, but had all their memories wiped and got forced to fight each other on live TV (unbeknownst to them). They agreed to go under lockdown in the school because a terrorist organization called Super Duper MMLS Despair showed up, cancelled Mega Man Legends 3, and turned the world into a stinking hellhole.
Students are also not allowed to attack the headmaster, and all of the blood is bright pink.
---
The Cast Assignments *With pictures later, maybe, if anyone feels like drawing these guys, because I couldn't remember their names if I tried*:Kyle
is streaming the games and thus gets player character privileges (Super Duper Luckster), giving him some pretty hefty plot armor. He's also the same build as the player character. In-game he is incredibly naive and trusting, which led him to get betrayed by Buster already. He wanted fAB to open up to him, and fAB then told him about a secret room in the men's room storage closet. Kyle went there, found a mysterious note saying "You must not leave here" and then got beaned with a WHEEBAN by a stranger in a mask. During the fifth trial, he was incorrectly found guilty for murdering MLT instead of fAB, and was about to be crushed by fAB's punishment, but DigiBlyka popped up at the last second and glitched the system so all that happened was that he got dumped in the garbage chute. fAB came to his rescue and then they worked together to unmask Pitch as the mastermind behind the killing game.
JMC
is the evil headmaster bear. He's been watching the streams and finds this highly amusing. Attacking him is against the rules and results in immediate death. He is actually a robot proxy being manipulated by Pitch, and even though Pitch supposedly dies at the end, JMC seems to be able to move on his own. Either that, or some other member of the MMLS Despair Squad.
fAB
is a silver-haired Mary Sue who was introduced as "Super Duper ? ? ?" and did not disclose very much information about himself. This is because when his memory was wiped, Pitch made sure to get rid of his skill, too, which is actually "Detective." He is, naturally, highly observant. We guessed his skill really early. Whenever he speaks, it tends to be important. He has an inexplicable soft spot for Kyle, discovered that Blyka was a boy the awkward way, and found the wadded up note Chiz had hidden in his underwear after Chiz died. Ergo, he has no qualms about touching dead bodies in inappropriate places. He also knows about the secret room in the storage closet in the boys' bathroom, even though the DR character he's repping is female. He inherited DigiBlyka's locker key from ****** after his execution, came across a fabulous master key for the school, and did most of the dealings with DigiBlyka until his destruction at the hands of JMC. He also was first to get any dirt on MLT. His dad is actually the headmaster, he'd come to the academy to cut off all ties with the man, and then he finds out that Pitch killed the headmaster and erased his memories of their reunion. It was probably not too bad, because Big Daddy Dahku's computer password is fAB's name. Because Pitch was really aiming to kill him, or maybe because he has the hots for the dead bodies that could've been tossed in the dump, he rescues Kyle after his botched execution during the bogus MLT investigation, and persuades JMC to revisit the MLT trial so they could unravel all the secrets of the school.
Dashe
is a stuck-up, bespectacled blond guy introduced as the "Super Duper Scion." She's supposed to be the heir to some kind of business empire and seems sociopathic at best. Very down-to-business, and thinks she's perfect and driven to succeed at all costs, but don't go telling her she's had her success handed to her or you'll see another thing coming. This is because in the Troxon family, the head of the family has kids with the best of the best women from all over the world, and force the kids to compete. Dashe was the first youngest member to win, ever. Kyle gave her a tumbleweed as a gift and it didn't go over well. Wanted to frame Jes for Blyka's murder to make the trial more interesting and test Kyle, because she doesn't want to get caught by him (or anyone) when she kills. Dashe likes this expensive coffee that's actually made out of civet excrement. She tried to see if Kyle'd be willing to be her errand boy after this all ended, for $55 million, but Kyle declined. After Z-Mania's trial, she decided to stop playing the game and had character development after being attacked for not caring about anyone's feelings. Then in the end, when they all found out the world had gone to crap, they also found out Dashe's family was murdered and all her money's gone. But hey, at least she still has her creepy stalker, amirite?
Chiz
was the "Super Duper Otaku." He gave rambling speeches about anime and games he likes, dropped constant media references, and the character had the same build as the real Chiz. He had a pink camera that was confiscated and later found on the third floor, in the physics lab. Kyle gave him a gift of instant ramen, which seemed to go over okay, and a bra shaped like hands, which did not. He had a REALLY creepy crush on Blyka's AI replacement once Steffie found the computer in the bath area. Then he vowed to kill Mikey when ****** told him that Mikey had stolen Digi-Blyka and planned to murder him and escape. He built an elaborate robotic suit in Dash's size and then he and ****** drugged him up, put him in the suit, and took some pictures to make it look like Dash was abducting him and trying to kill him. Then early that morning, he hit Mikey on the head with a mallet marked "WHEEBAN #4" and killed him. He and ****** worked together to redirect their classmates' attention using carefully placed WHEEBANs of increasing numerical value. Chiz faked his death via WHEEBAN #3 using blood transfusion packets in the infirmary, and once he'd successfully moved Mikey's body to the art room, ****** hit him with another unmarked mallet to try and kill him right away. Unfortunately for ******, Chiz hung on long enough to tell Steffie that ****** did it, but he almost screwed everyone over by using his real name instead.
Mikey
was the "Super Duper Prefect." He was the one waving the rule book around and patrolling the halls, like the prefects in Harry Potter. Like Percy Weasley with a less pronounceable in-game name, really. He became friends with Truner when they tried to see who could last longer in the sauna and did not react well to Truner's murder confession. It made him BSOD, but then Kyle showed him the Blyka AI, and fake-Blyka attempted to imitate Truner to cheer him up. Unfortunately, that just spurned him to start acting like a creepy super-saiyan fusion of himself and Truner. Then early on the morning of the third trial, either Chiz or ****** sent him a mysterious note telling him that they'd found a way out, but it was a setup, and Chiz used the opportunity to bean him with the hammer marked "WHEEBAN #4."
Buster
was a seemingly kind and caring "Super Duper Idol," made out by the writers to be like the group's Roll Caskett. He was the first to approach Kyle and did his "being nice to people" thing, but then when he realized what the situation really entailed he decided he had to be the one to graduate, he pretended to get scared so he could switch rooms with Kyle for the night, and tried to murder MuzNinja in it with a stolen knife from the kitchen. It backfired, with Muz murdering Buster in self-defense after Buster tried to lock himself in Kyle's bathroom upon being disarmed.
Muz and Mr. Ninja
were both the "Super Duper All-Star," a naturally gifted baseball player who really just seemed to hate baseball and wanted to become a musician. Buster set him up for an ambush, but it didn't work and MuzNinja ended up killing Buster instead. He got caught in the trial and JMC pelted him with baseballs until he died, since Buster wrote his name upside-down in his own blood.
Pitch
was the "Super Duper Supermodel." We thought we met him at the start of the game, but that was really MLT, his faithful clone. He's gone from being normal-cynical to a totally psychopathic despair junkie masterminding a battle royale between his classmates by way of JMC, the robot bear proxy. He and MLT wiped his classmates' memories and convinced them to kill each other, with Z-Mania acting as a mole who would incite them to action by committing the first murder if nobody made a move right away. In the final trial, he was called to the stand directly, where he proceeded to imitate the surviving students. Then he wound up merrily receiving every punishment, one right after the other, in a physics-defying display of insanity. It was actually physically impossible, but he managed to accomplish surviving through everything only to be crushed by a metal block in "Detention." Once he bit it, the group got the button to open the front door.
Dash Myoku
is the "Super Duper Shaman." He has a laid back attitude, not very much going on in the brains department, and doesn't seem to like the idea of all this violence. Ninja/Muz stole his crystal ball and smashed it trying to dispose of some evidence against him. He has giant hair just like the real Dash, too. He likes charging inordinate amounts of money for his questionable fortune-telling services. He read Kyle's future and said that Dash and Kyle's children would share a mother.
Truner
was the "Super Duper Outlaw Biker." He was loud, disruptive, rebellious, and not fond of authority, but he made friends with Mikey anyway. He had an older brother who died knocking him out of the way of oncoming traffic during a motorcycle race to determine who was stronger, and he didn't want his gang to find out about it when JMC threatened to tell the world the students' darkest secrets. He killed Blyka when Blyka revealed his secret and asked him to help him train, and then was turned into "Truner Butter" by JMC with excessive Gs.
Blyka
was the "Super Duper Programmer." He was shy. He also got sick of being told to man up, so he started crossdressing, but decided to hit the gym when JMC threatened to tell everyone and overcome his insecurities. He looked up to Truner for his stereotypical masculinity and wanted to get his help with working out. Unfortunately, Truner was threatened by his resolve and fatally beaned Blyka on the head with a dumbbell so his own secret wouldn't be revealed. Steffie later discovered that Blyka had programmed an AI of himself and loaded it onto the computer found in the library on the second floor, then hid it in the bath area, where JMC didn't have any cameras. fAB and the others took Digi-Blyka and hooked him up to an ethernet port in a secret room behind the boys' bathroom, but JMC caught him and destroyed him. JMC knew about Digi-Blyka the whole time, but didn't want to risk a leak of the information on the school network.
There was a
"Super Duper High-Roller"
who dresses like a gothic lolita, seeks the truth, and says a bunch of condescending things during group meetings, but he shall not be named for fear of accidentally summoning him Voldemort-style. He forced Chiz to go make him tea but then threw the teacup at him saying he'd prepped it incorrectly. Later, he manipulated Chiz into killing Mikey and tried to redirect the rest of the group's attention toward blaming Dash in an elaborate scheme involving a giant robot suit constructed by Chiz. Once Chiz had served his purpose, he WHEEBAN'd him with an unmarked mallet. Turns out he wanted the 80 million dollars to fulfill his dream of living in an elaborate fancy castle somewhere in Europe, where everyone could call him "sir."
Jes
is the "Super Duper Bookworm." She has three parents (two moms and a dad), none of whom have been revealed to be dead. She looks outwardly harmless, but has overreacted a lot and likes to play the victim. She also seems to really hate Kyle and has a creepy crush on Dashe. She is a classic 50 shades of grey fangirl type. Completely inappropriate. She also smells weird. A bunch of us want her to hurry up and get murdered at the moment, but we also think Murphy's gonna give her some plot armor. Turns out she also has Disassociative Identity Disorder, and a psycho killer called Miley Cyrus as her alter-ego. She only murders smexy guys by crucifying them with scissors, and calls them by cutesy nicknames. The two switch back and forth whenever one of them either faints or sneezes. She wound up with plot armor because Miley didn't get her memories wiped, only Jes did.
Z-Mania
was the "Super Duper Fighter." She was tall and imposing, to put it lightly, wears a schoolgirl dress, flirted with Kyle, and was good friends with Steffie. Unlike the real Z-Mania, she seemed to be all business, though, and trained in combat since she was a toddler at her family's dojo. There was only one man in the world she was unable to defeat in battle, but she wouldn't tell us who it was. We never got enough conversation with her to know for sure, but general consensus is that it's her father. JMC held her family's 300-year-old dojo hostage and coerced her into acting as his mole, with the orders to make the first kill if nobody took the bait initially. Buster did, and JMC said to just wait it out, but as Z became friends with Steffie and everyone else, she decided to stop playing the game and challenged him to a duel. As the fourth motive, JMC revealed Z's identity as the mole to stir up strife, but Z decided to kill herself with poison in the chem lab to keep any more bloodshed from happening.
Steffie
is the "Super Duper Swimmer." She had Z-Mania sleep in her room to act as a bodyguard the night that Buster attempted to kill Muz because she was scared. She seems to be friendly and drank a cup of tea while Buster snagged a knife out of the kitchen to stab Muz with. She is not fond of all of this killing at all. She's been attacked by Miley Cyrus, and found a fake suicide note from Z that JMC planted, stating that Z-Mania died of despair that nobody liked her anymore. Knowing about the suicide, she tried to incriminate someone, even herself, so they'd all pay for driving her to kill herself, but that didn't work, and it was soon revealed that JMC stole her real suicide note. She also rubs her naked upper torso down with a dry towel on an open balcony every morning when she's not locked in a school trying not to die.
Emeltee (MLT)
was the "Super Duper Soldier." He was a Pitch clone and a member of an assassin's guild called Fenrir. Pitch had him go to orientation in his place and told him to attack JMC in the gym. He followed the orders but it turned out Pitch planned to secretly skewer him with spears when he did. Then Pitch set up MLT's body in the greenhouse on the fifth floor with Kyle's knife sticking out of it to make it look like a recent murder, and planted a bomb under the mask Pitch had taken to wearing when masquerading as MLT. Jes came thiiiiiiiiiiiis close to getting blown up, but alas, no dice. fAB and Kyle eventually figured out MLT had been dead for weeks and that as far as they knew, none of them had met the real Pitch since getting their memories wiped.
---
It took us a while to cast this, and if you're disappointed you didn't make the list this time, there's supposed to be a sequel, so you too can have your shot at being murdered gruesomely by an evil stuffed animal. Anyway, that's where the game stands as of today. I figured we'd want to save this absurd, ridiculous event for nostalgia purposes later.
Death Toll as of 2/8/14 (capped by Ave):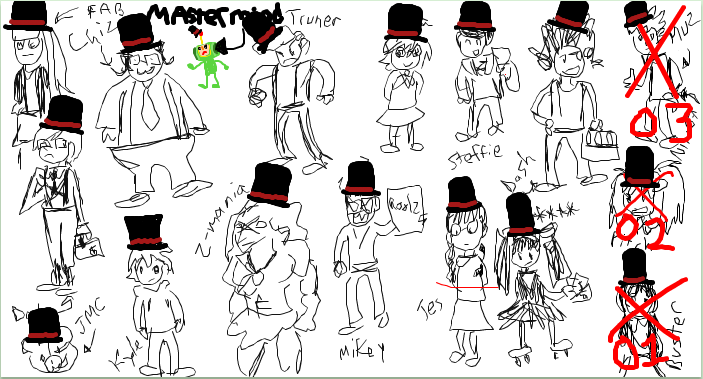 Death toll as of 2/9/14: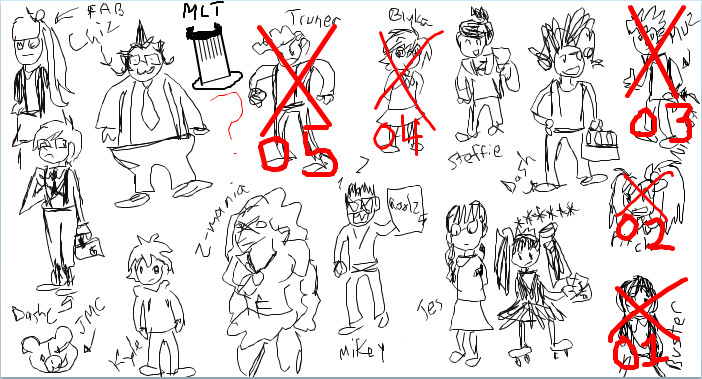 Death toll as of 2/14/14:
style="max-width:100%;"]
Death toll as of 2/15/14: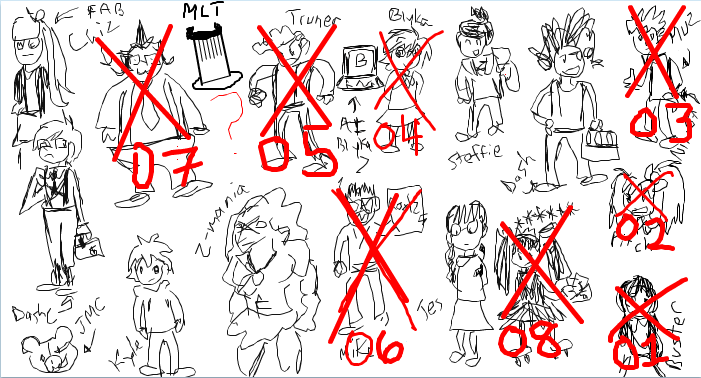 style="max-width:100%;"]
Death toll as of 2/22/14: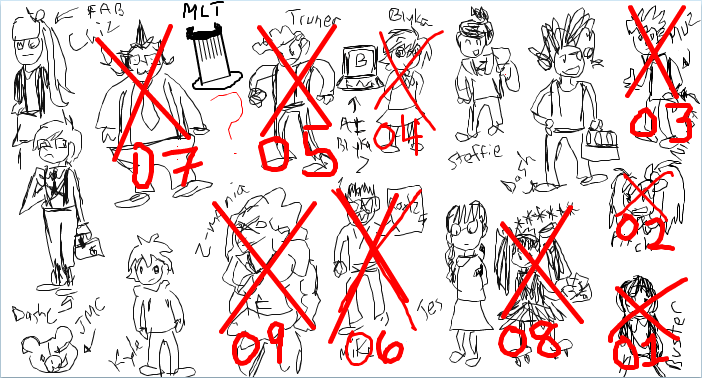 style="max-width:100%;"]
Death toll as of 2/23/14: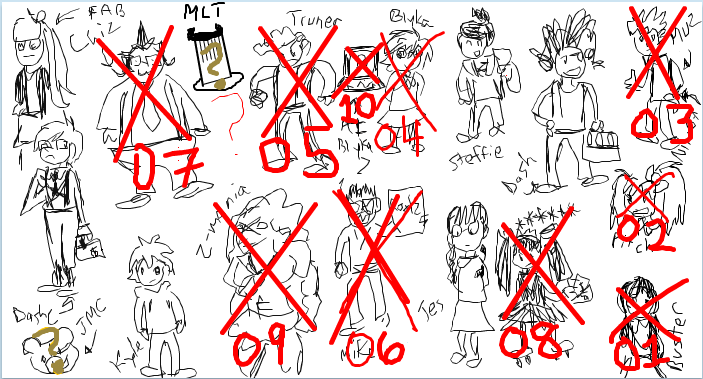 style="max-width:100%;"]